---
Second night of my return to comics recap. The following is a list (long i know but what can i do?) of ongoing titles that have made an impression on me these first 6 months back - in no particular order:
EX MACHINA
- Recommended to me by the good Dr. Flem. Great, great book (as i think all of these are). West Wing with a nostalgic super-hero twist. Vaughn is at his best here IMO, the storylines and dialogue are heady, poignant, and intelligent. The entire book has a classic feel, without taking the reader too far into the past w/ it. Very cool tie-ins to real world events and politics. Vaughn deftly tackles some tough subjects. One of the best titles on the stands period.
100 BULLETS
- Love the premise of this book - 100 bullets for revenge, w/ no threat of reprecussions (from the law at least). Ever changing characters and stories keep it fresh and ineteresting. One of my favorites (even though i'm still early on hoping it never jumps the shark).
Y THE LAST MAN
- Once someone tells you the plot behind YTLM, you're hooked. Every Y chromosome on the planet has been wiped out by a mysterious plague - save 2; a boy and his monkey. Very cool look at life "after". I'm not nearly caught up with this yet - but can't deny what i've read so far. Hard to imagine life as the last man... oh God let this never happen to me.
THE GOON
- Powell's story-telling and art has grown up before our eyes. The Goon gets better and better. First trade was good, second great, and by the third and into the current floppies it's been stellar. The Goon is a highly original, likeable tough-guy, and his side-kick Franky has me laughing out loud as often as not. Love this title for Powells hilarious (and sometimes spooky) writing and his original colored pencil looking art.
POWERS
- One of my all time favorites (if i'm allowed to have all-time favorites after 6 mos). Bendis has outdone himself on this title IMO. Powers is a gritty, mature, down-to-earth crime drama set in a world full of much more realistic superheros and storylines than we get almost anywhere else. Couple that with some very interesting leads and plots that get better and better as the series progresses, and you've got a solid winner. I love Oeming's art too (am i the only one?), it's perfect for this title.
THE WALKING DEAD
- Reminds me so much of the movie 28 days (great flik BTW). Kirkman brilliantly leverages the collapse of society into anarchy after a devestating zombie plague to delve into the human psyche. What would happen if society as we know it completely disintegrated? Where would we go? What would we do? How would we act towards one another? Kirkman tackles all these questions and many, many more in TWD - brilliantly. Very cool "can't put it down" title w/ a plethora of interesting characters, relationships, and settings.
CONAN
- Wow. Used to be one of my fav titles as a kid and i can't tell you how happy i was to come back to this. Busiek, Nord, and Stewart are an incredible team and this title comes as close to the perfect Conan title as possible IMO. The story-telling and art here are a match made in heaven. Nord's "painted" work in particular is some of the best i've seen since i've been back. Everything about this book is "Conan". Crom would be proud.
NEW AVENGERS
- Good Bendis, great art. This is just about the best Marvel has going right now (next to Ultimates 2 IMO).
LOSERS
- Cool w/ a capitol "C". Think Tom Clancy, Robert Lludlum, Vince Flynn. Combine a great cast (your shadowy leader/tactition, cowboy sniper, hacker, pilot, and a hard-ass arabic female commando) with some intriguing corrupt CIA conspiracy spook-filled storylines and a traitor in the first 5 issues and... Well... What more could you ask for? There's so much bad-ass butt-kicking, military hardware, gov't corruption, and uber-cool dialogue in this title i can't get enough of it.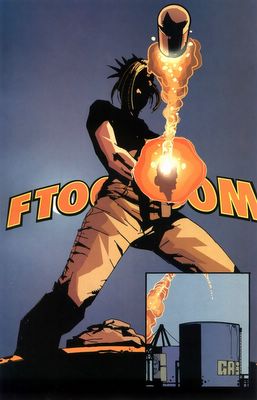 ULTIMATES and ULTIMATES 2
- Hands down the BEST superhero series i've read since i've been back. Intelligent writing/dialogue and stellar artwork. Not to mention an all-star Marvel cast featuring 2 of my all-time favorites: The Incridble Hulk and just about the most interesting Thor ever written (my apologies Simonson).
INVINCIBLE
- Just when i thought i didn't need another "kid with new powers" book, along came Invincible. A new take on a done (and redone) story - Invincible manages to make it all fresh again. Kirkman shows his range by writing TWD and Invincible at the same time - you can hardly tell they come from the same dude's mind. The story in Invincible is really, really good with great twists, likeable characters, and funny, interesting dialogue. A must read for any superhero fan.
BATTLE POPE
- My guilty pleasure. One of those books you don't WANT to laugh at - hell you even feel GUILTY for laughing at... but in the end you just can't help yourself.
ALIAS
- Recommended this book by my good pal Uncensored. Didn't think i'd like it at first but grew to love it after only a few issues. I'm not usually one for female leads (i'm not sexist i just like to pretend i'm the cool main character ok ;) but this one won me over. Bendis took one of Marvel's least interesting characters (Jessica Jones) and turned her into one of it's most interesting. Very cool crime drama that stands up w/o leaning on superpowers, heros or villians as anything more than an aside. Can't miss.